On 28th of August, Digital Transit went to Siemens train depot in Manchester to take measurements for installation of our FAST system on a train.
The aim of the project is to scan environment of the train for any left or stolen bags, in order to improve personal security and safety of the passengers. This is due to a potential risks that any left, unattended luggage is posing. This week, we are going to perform final tests and get the system ready for deployment.
The solution that we have developed involves analysing the footage from CCTV cameras, which provide a real-time view of the inside and outside of the train. The processing of the videos is done by an on-board computer which is capable of simultaneously combining and analysing several camera inputs at the same time.
The system recognises individuals that enter the train, takes a note of bags, suitcases or any pieces of luggage and tracks them throughout the journey. On an event of a person getting off the train with an incorrect number of baggage, the system raises an alert which is being sent to a member of staff, who then can then deal with the situation.
The alert is sent to a mobile app, which was developed specifically to receive real-time push notifications. It displays the relevant information about the event, alongside snapshot photos taken by the system, which will assist the staff with identifying a threatening situation.
We are excited to announce that Digital Transit is getting ready to perform a first official demonstration of the system soon.
Here, we are taking the measurements of the mounting points for cameras.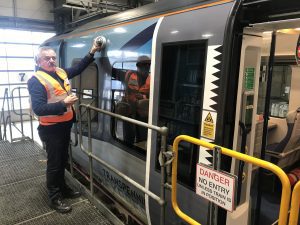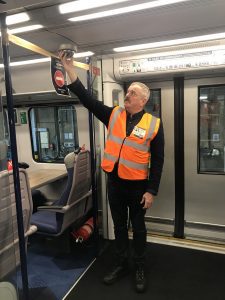 Cameras will be installed both inside and outside of the train. This is to track passenger as they enter with their and recognise them as they leave without their luggage or if they have taken any extra luggage.
Cameras will be mounted at correct angles to maximise the visibility. This is the view the system will be getting from the inside: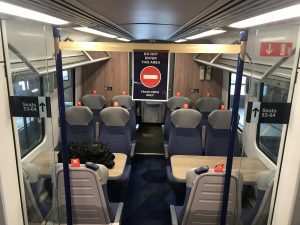 For the demo, an output will be displayed on a monitor, that connects with the rest of the equipment (PoE switch, processing unit, router), these can be mounted inside the train near the door, where they can be visible and close enough to the cameras.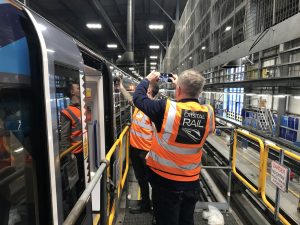 We are excited to test our system on a real train, once this is done we will be one step closer to deploying it in a real-life scenario. We can't wait to share it with the world, we hope to see you soon at the demonstration.
Remember to take your bags with you!